Las Vegas is the home of blackjack and on any given day you will find thousands of players from around the world playing the game at a number of popular Vegas casinos. The game comes only 2nd to slot machines in terms of popularity and is the favoured table games of players who love the low house edge and decision making involved in the game. If you are heading to Vegas anytime soon and are a blackjack player you're probably wondering where the best places to play blackjack in Vegas are these days. On this page we've profiled some of the better blackjack casinos & provided info on each casinos conditions.
Slots.lv Casino - Best Blackjack Casino, Accepts All US Players, $1,000 Sign Up Bonus!
Ignition - Accepts All USA Players, Seven Variations of Blackjack + $1,000 Bonus!
Wynn & Encore Blackjack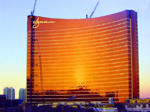 The Wynn Las Vegas is one of the most prestigious resorts on the strip and is the brainchild of Steve Wynn one of the most respected and aggressive hoteliers in the world. Blackjack players coming to the Wynn can expect excellent treatment and a huge selection of games and tables. The Wynn isn't a great spot for low limit players as table minimums are usually $25 throughout the week and even can be up to a $100 minimum during busy weekends. The maximum publicly available limits on the main floor are $10,000 per hand however this can easily be bumped for known players or those who request it. For the highest of rollers, the Wynn offers their Sky Casino located on the 63rd floor of the hotel where betting limits can be arranged at high as $250,000 per hand in Baccarat and Blackjack games. To get into this exclusive area you must have at least a $300,000 credit line established with the casino. For those wishes to play on credit Wynn grants credit lines quite liberally within 1 business day to their players that can be requested as markers at the tables.
Bellagio Blackjack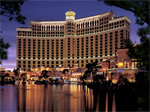 The Bellagio Casino and Resort is a another premier destination for blackjack players and is one of the top casino hotels in town. The casino offers a huge selection of blackjack tables and it's pretty much possible to get a seat at a game any day of the week, save maybe a fight night or big sporting event. Expect table minimums at the Bellagio to be around $10 - $25 depending on the day/atmosphere with upper limits of $10,000 to $15,000 on the regular floor. For high roller players, there is the Club Prive located just near the Baccarat bar that offers increased betting limits over $100,000 per hand. Entry is not restricted however you should be looking at a minimum $1,000 bet if your going to play here. The comp situation is quite good at the Bellagio and since it's linked to all other MGM properties there's lots of additional perks from playing blackjack here.
Aria Blackjack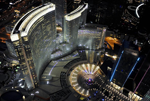 Aria is the one of the newest casino hotels on the strip and is located in the mega development known as the City Center right near the Bellagio. Aria offers a number of different blackjack games including 6/5, 3/2, 6 deck CSM, 6 deck regular and 2 deck in their high limit room. Most days the minimum bets are $25 per hand on blackjack games with upper limits on the regular floor around $5,000 to $10,000. Aria casino offers private gaming salons and VIP rooms for high rollers with limits up to $250,000 per hand depending on your personal betting limit arrangement. Overall, Aria is one of the better places to play blackjack on the strip if you are looking for a new property with a huge line up of player amenities and an excellent player comps rewards program.
Caesars Palace Blackjack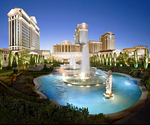 Caesar's Palace is the last (but certainly not least) recommendation for playing blackjack in Las Vegas and this hotel remains one of the nicest and most luxurious properties in Vegas. For blackjack players, Caesars Palace has a great selection of games and features some $10 minimum tables with regular minimums being at the $25 level. Perhaps the coolest thing about the Caesars blackjack tables is the huge limits on the main floor where players can bet up to $50,000 per hand while playing. These are by far the highest (publicly) available limits in Vegas although private gaming salons do offer higher wagers.